Case Studies
Use Cases by ACD Group
On this page we would like to give you an extract of our application examples. This will give you a quick overview of the large number of customer-specific projects that the ACD Group has implemented over the years.
Case Study
How Do Mobile Workstations Improve Efficiency in Warehouses?
Using mobile workstations in warehouses provides efficiency benefits across a range of tasks. With them, employees can move freely and avoid unnecessary paths.
Case Study
Comparing Warehouse Order Picking Methods
Order picking is the process by which workers select inventory to fulfill customer orders. As this task can comprise as much as 55% of total warehouse operating expenses, choosing the appropriate order picking system is an important step toward ensuring success. There are a number of warehouse and distribution center order picking methods from which to choose and the ideal option will depend on several factors, including available equipment, staffing, and product demand.
Case Study
"Mobile Workstation MAX" at Simplehuman (UK)
Case Study
Mobile Handheld Computer: Small and Compact for Every Logistics Need
Mr Braig, Logistics/Transport Manager, explains: "The involvement was a seamless process and the exchange of devices was imperceptible to Logistics employees." In comparison to the predecessor, the increased speed due to an improved processor in the M160 was q uickly apparent.
Case Study
Mobile Workstation: A Successor for Worn-out Roll Carts Had to Be Found
A high-performance logistics concept is an indispensable prereq uisite for the corporate group to be able to send off goods deliveries punctually. Ta ensu re this, EDEKA had for some years already been using roll carts with lead batteries to receive products arriving in incoming goods.
Case Study
Mobile Workstation: State of the Art in the New Goldhofer Logistics Center
Andreas Schneider, Warehouse Manager at Goldhafer, is enthusiastic about the solution: "lt meets our needs exactly. The mobile workstation provides excellent mobility. lt also has rollers that move very easily. The MAX is a lean vehicle that was customized specifically for us with numerous options, modifications and accessories."
Case Study
Mobile Handheld Computer: Exact Batch Tracking for the Food Industry
For some years now, mobile devices have been used by food producers to record batches. As external and internal quality requirements became ever stricter, one pioneer in the industry began searching for a suitable solution about three years ago.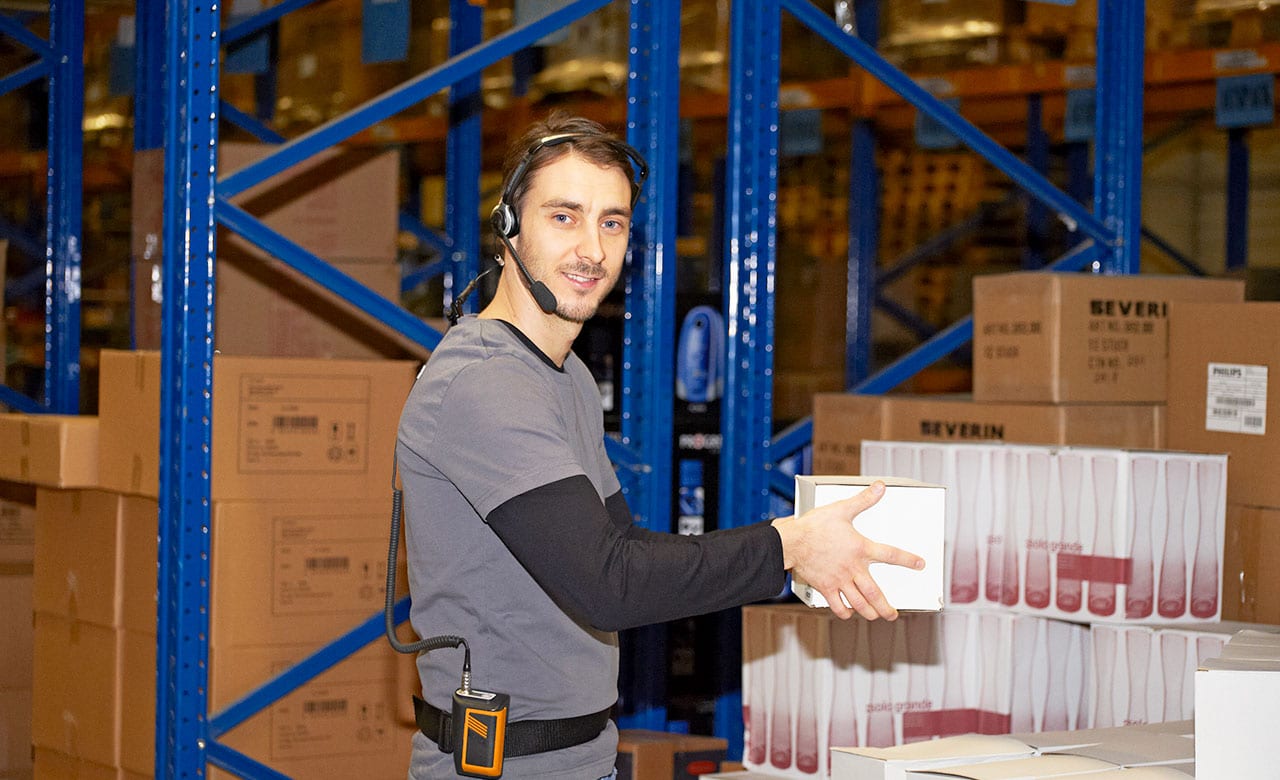 Case Study
Pick by Voice und Cognis®
ACD Elektronik GmbH has relied on the kanban principle for in-plant material supply in production for years. The island manufacturing set up for all fast moving ACD products requires all material needs be present on the manufacturing island, while material availability must be ensured by the kanban principle. To ensure optimum stock of purchased parts and semi-finished goods, every article must be created and administered in the system.
Case Study
Optimization of Inventory Management in Automotive Wholesale
The development of the wireless driver was particularly critical and time-consuming in order to be able to offer WLAN according to the N standard in the future. A Java-based client running under Linux on the MFT960 vehicle terminals indicates the appropriate picking cart.
Case Study
Mobile Workstations in the Warehouse
With the MAX mobile workstation, ACD already offers a very customer-specific, mobile solution for use in warehouses. Previous inconsistencies with the requirements were worked out in cooperation with the customer and replaced by suitable proposed solutions.