Quality – Electrical Test Procedures
Under tension and current
To ensure 100% quality of the electrical functionality, ACD Systemtechnik provides various electrical test procedures.
Electrical test environment
In Circuit Test
The In Circuit Test (ICT) is a test procedure in electronics production to prove the correct function of electronic assemblies. With the ICT, the main focus is on testing the components and electrical connections on an assembled printed circuit board.
Each individual circuit board is checked for faults in the conductor path (such as short circuits or interruptions), soldering faults and component faults with a special test adapter.
Electrical test environment
Function test
In the function test, the real environment of the assembled circuit board is simulated in the installed state, the functionality of assembled circuit boards or complete devices is checked to ensure that the components function correctly.
Electrical test environment
Boundary scan
In the boundary scan test, the SMD components to be tested have a special boundary scan cell through which signals can be introduced into the circuit of the electronic component to be tested in order to check the correct functioning.
The boundary scan test detects defective components, soldering, assembly and solder bath defects when using SMT and THT after the complete SMD assembly.
Electrical test environment
Manual electrical test
The manual electrical test is carried out using a table adapter and various PC-controlled measuring devices. The on-board programming of the integrated circuits takes place externally & on-board.
Electrical test environment
High voltage / safety test
These tests are used to carry out and check the leakage current of the fitted assemblies, high voltage test, insulation test and the correct function of the protective conductor. An electrical security test device is used (GS test).
Electrical test environment
End of line test / final test
The assembly self-test and an automatic function test are performed here.
Electrical check of the ESD assemblies
Generous equipment
In circuit test (ICT), functional test, boundary scan, manual tests
Our capacity allows for a fine gradation of the electrical test depth required by our customers through a variety of test options. In addition to measuring devices, automatic test systems are also available for this purpose. Our electronics and test field specialists use them to test and check according to customer requirements.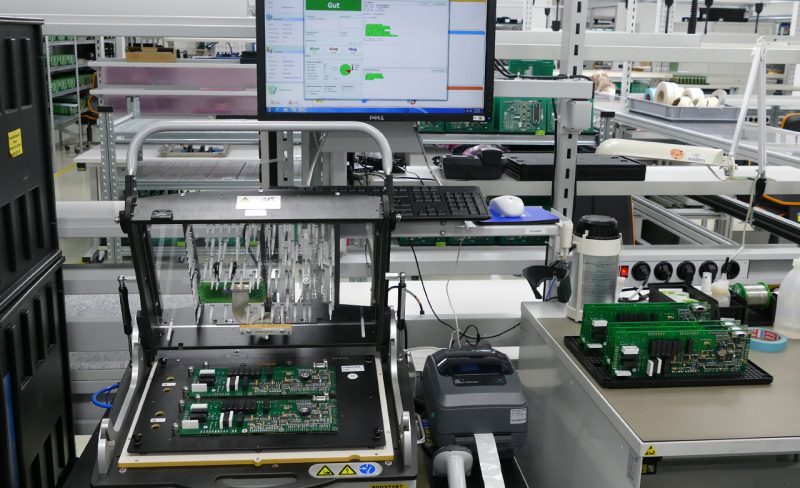 IC testing of assembled assemblies
Measuring with pin adapters
In circuit tests (ICT) identify material defects in the assembly. The ICT allows us to detect faulty conductor paths (short circuits, interruptions, etc.) as well as soldering and component errors.
To do this, the components are placed on a special in-circuit test adapter made of fine, spring-loaded needles. These contact certain points of the assembly and test the circuits electronically. The ICT is mainly used for large batches.
Related services
Services that might also interest you