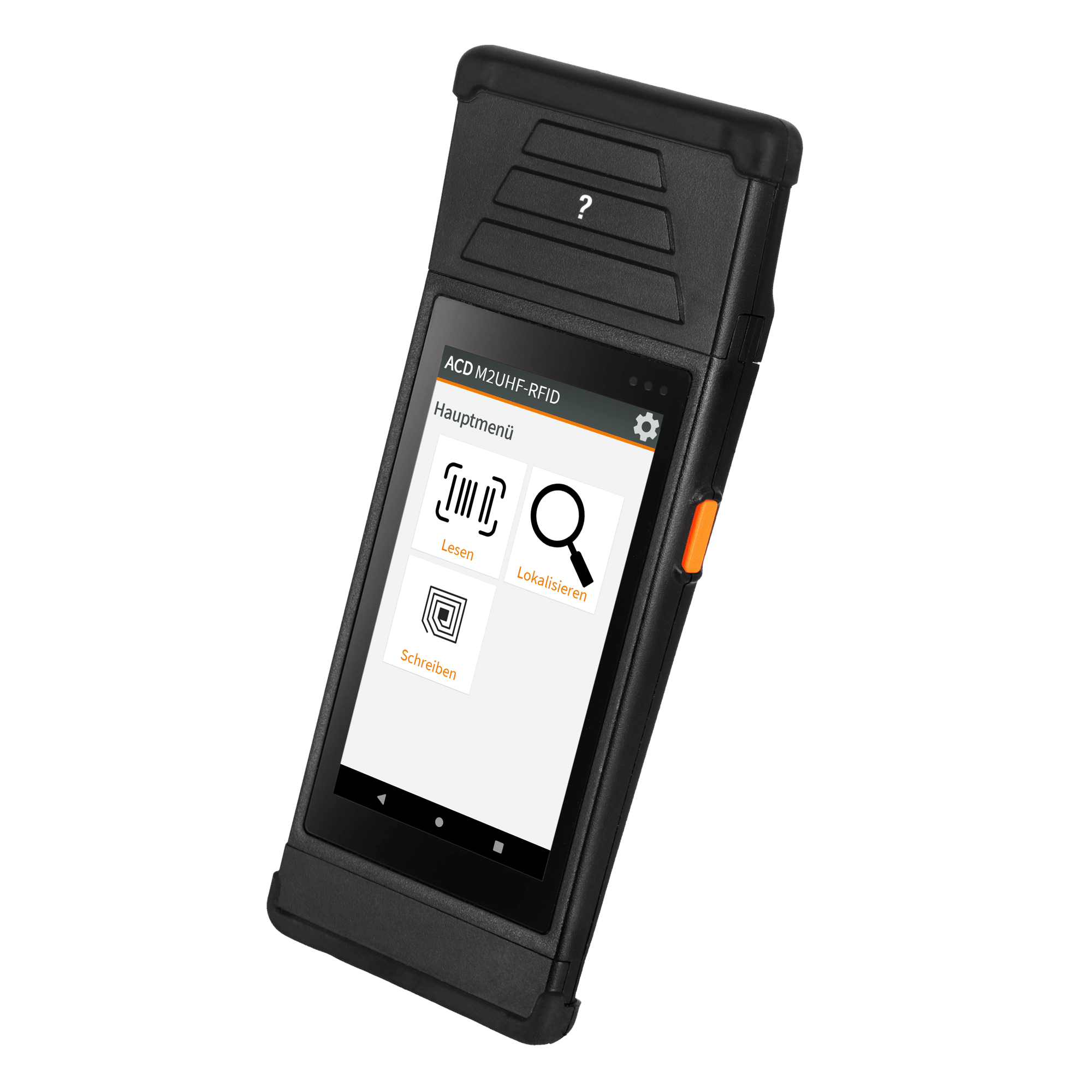 Customized RFID modules
Customized RFID modules
If our standard RFID products do not include a suitable reader, you also have the option of adapting individual RFID readers to your system. In the simplest case with the integration of your RFID reader into one of our standard housings.
Here we are available for almost any kind of cooperation, be it in the development of the production or as a partner for the programming of your individual application.
Feel free to contact us!
Product Information
M2Smart®SE: Customized RFID modules
Flexible and modular for your RFID processes; completely according to your specifications
Various standard enclosures are available
Support for the development of additional RFID enclosures
Customized branding for ACD standard RFID products
App development
Development-related service and support
Operating Android™ Industrial+, with a focus on the security aspects
Reliable plug and play feature for frequent module changes
Rugged enclosure design for rough everyday use
Combinable with other modules such as keyboards, handle, scanner (shortrange/midrange/longrange), etc.
We offer you holistic support throughout the entire product life cycle: development, production, individual logistics concepts, after sales, etc.
In 2020, the M2Smart®SE mobile handheld computer received the iF Design Award, the German Innovation Award, and the Innovation Award of the State of Baden-Württemberg.

TECHNICAL INFORMATION
All data at a glance
RFID
Types: HF/LF/UHF RFID
Frequency range: According to reader module
Read range: According to reader module
System
NXP® i.MX8M Mini, 4x Cortex A53 (4x 1.8 GHz) and 1x Cortex M4 (1x 400 MHz)
16 GB Flash, optional larger memory possible
2 GB RAM, optionally larger memory possible
Android™ Industrial+; version 9.0
Display
4.8″ TFT color display with LED backlight
1280 x 720 pixels, 280 cd/m²
3 status LEDs
Capacitive, surface hardness according to MOHS category 5-6
Device
Housing: ABS/PC
Ingress protection: IP54/IP65
Dimensions without module: 174 x 82 x 28 mm (L x W x H)
Weight without module: Approx. 390 g
Operating temperature: -20 °C to 50 °C
Storage temperature: -20 °C to 60 °C
Power supply
Quick-change rechargeable battery, li-ion with 22.8 Wh (6,000 mAh/3.8 V)
Docking station incl. battery charger for spare battery
Options
5 MP auto-focus camera with lighting
WLAN according to IEEE 802.11 a/b/g/n/ac/d/h/e/i/r/w/v (2.4 GHz/5 GHz) incl. BT-compatible short-range radio 5.0
WLAN Security:WEP, WPA, IEEE802.11i (Personal and Enterprise), WPA2, WPA2-PSK, 802.11x: Authentication
Diverse software products such as EasyToConfig
SOTI® certification
Produkt Equipment
Accessories
SIMILAR PRODUCTS
Products that might also interest you
ACD Gruppe
2021-06-01T15:59:30+02:00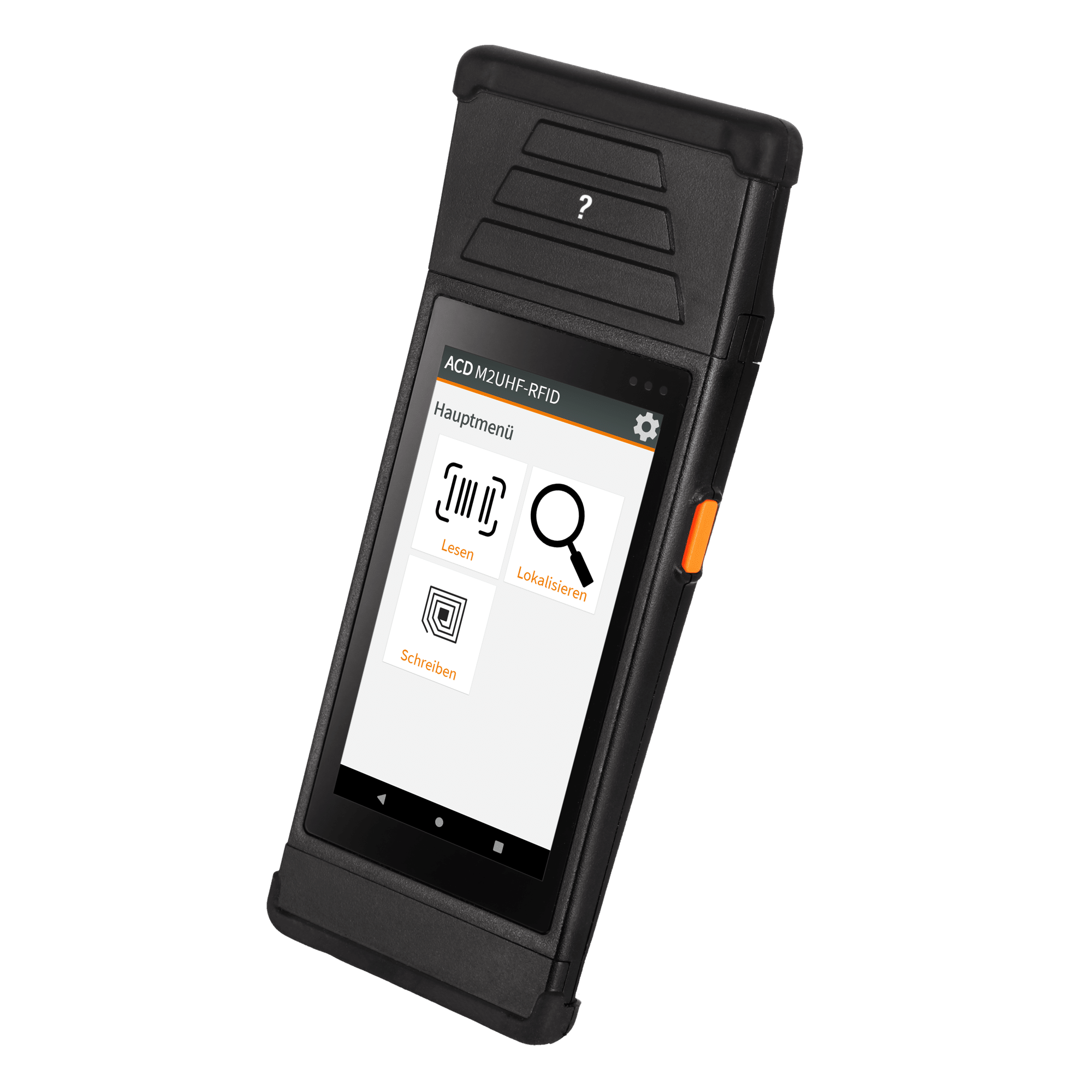 Different frequencies: LF-/HF-/UHF-RFID
Customized RFID modules
Develop your own RFID module
On the way to your own RFID module we offer standard housings in different sizes for easy integration of your RFID reader. You can choose whether you want to do the development and production in-house, outsource both or only parts to us, or just need custom branding. In any case we support you during the whole product life cycle and offer the usual service and support of a German manufacturer.
Customized branding
For our standard RFID products, customer-specific branding, color customization and own labels are possible at any time. Benefit from our standard RFID products with integrated HF RFID/NFC reader or via attachable M2UHF RFID module.