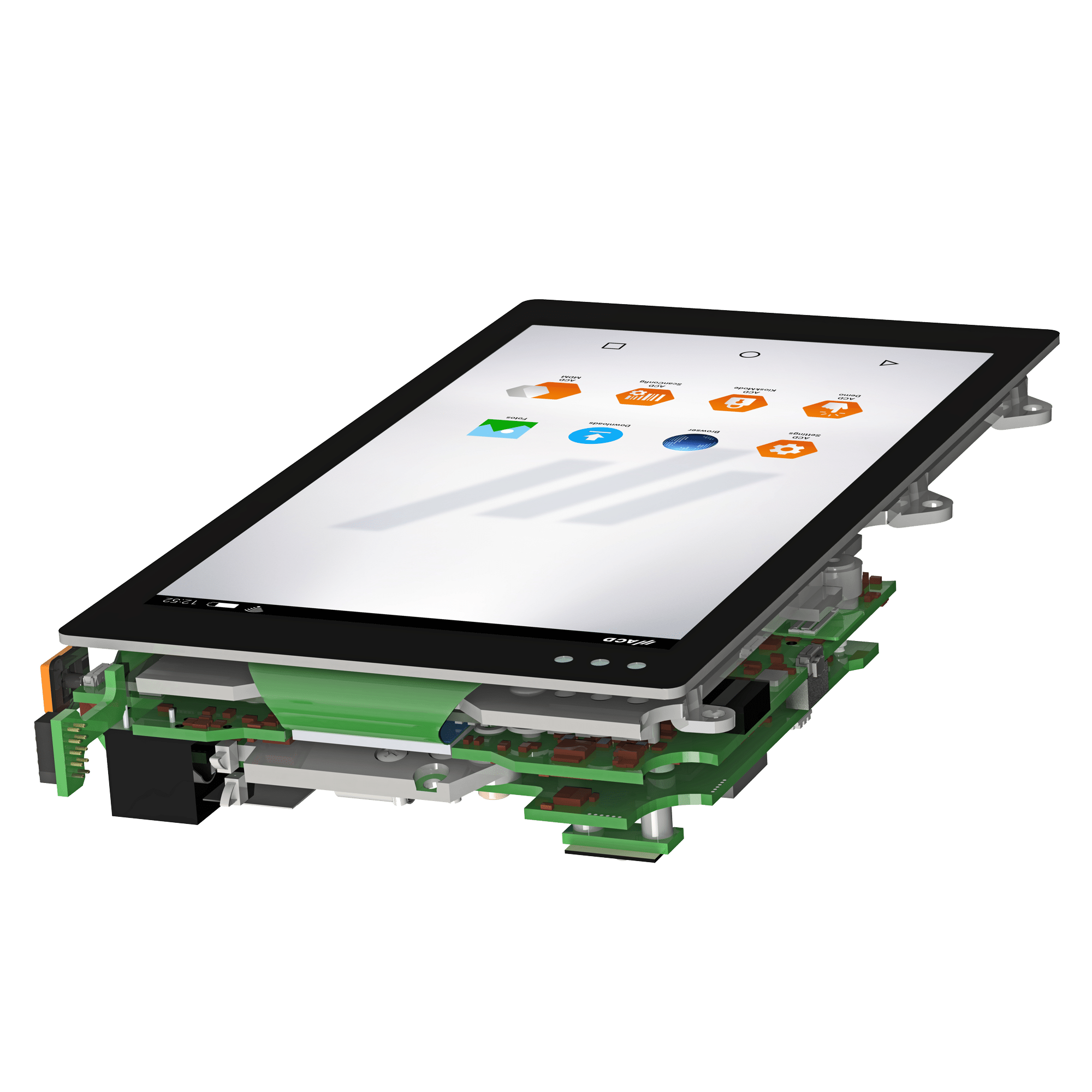 Modular device platform with Android™ Industrial+
Android Device Kit
Customizable for your products. Develop your customized project based on our android™ devices platform!
Product Information
Android Device Kit
We offer the possibility to build a customizable industrial platform based on our electronic construction kit and the Android™ Industrial+ operating system. From us you get full support (software, hardware, design, approvals, etc.), many years of experience in the development and production of electronics as well as extensive Android™ experience with a large developer team. With our three manufacturing sites with high vertical integration and a secure supply chain, we are your reliable partner for the development of your mobile operating device.
Choose from our construction kit to quickly and specifically develop your own Android™ product:
Android™ Industrial+ where the main focus is on the security aspects
Three display sizes (3.5, 4.8 and 10.1 inch) pre-qualified
Baseboard for CPU module, radio and GPS modules
ARM CPU board, pluggable
NXP® i.MX8M Mini, 4x Cortex A53 (4x 1,8 GHz) und 1x Cortex M4 (1x 400 MHz)
GPS module with integrated antenna
WLAN/BT compatible short-range radio/Ethernet
Radio module with WLAN, Bluetooth incl. RED certification
Integration of a wide variety of sensors/interfaces/components
Or completely customized according to your requirements!
We deliver not only individual components, but a complete functioning system including secure operating system.
Your advantages with ACD
Low time-to-market
Low development risk with ACD as a holistic development partner
Great know-how in Android™ operating system, integration of various components and drivers
Long experience in design and construction of electronic devices, systems and components
Support in approvals and certifications
Four manufacturing sites with high vertical integration
Extensive hardware and software support
References
The Android Device Kit in use
Modular device platform: Android Device Kit
Quickly to the customized Android™ device
Whether it's an X-ray system or a coating thickness gauge – in addition to technical functionality, easy, logical operability is one of the factors that determine the success of technical devices.
A modular platform solution helps to develop and manufacture customer-specific, industry-suitable operator interfaces cost-efficiently.
This is where the ACD Group comes in: The German company, which specializes in industrial-grade Android™ products, has developed a modular embedded platform that allows professional users to assemble a product tailored to their requirements. Standard components provide a stable basis, while the modular system ensures sensible adaptability. The operating system used is Android™ Industrial+ – a highly secure variant of the popular operating system optimized for professional use.
Modular Android™ device building kit "Made in Germany"
The basis of the industrial platform is the baseboard. CPU, radio and GPS modules can be plugged onto it. The CPU board is equipped with an i.MX8M mini processor from NXP, which is based on the energy-efficient ARM architecture.
Whether stationary medical technology system or mobile handheld computer: The intended use determines the required display area of the user interface. For this reason, the Android™ device building kit offers a choice of pre-qualified touch screens with diagonals of 3.5 inches, 4.8 inches and 10.1 inches.
Reliable wireless connectivity is provided by WLAN in accordance with IEEE 802.11 a/b/g/n/ac/d/h/e/i/r/k/w/v (2.4/5 GHz) and Bluetooth 5.0. A GPS module with integrated antenna can determine the location if required. In addition, the Android™ device construction kit provides further interfaces, sensors and components with which the operating solution can be further customized.
In industrial use, the focus is on data and system security as well as long-term availability. ACD has therefore decided to develop an industrial-grade version of the popular Android™ mobile operating system. Android™ Industrial+ combines system security and lifetime support with the modern user interface familiar from Android™ smartphones. It is independent of third-party providers, and all source code is held by the manufacturer in Germany. At the same time, however, it functions like a standard Android™ operating system.