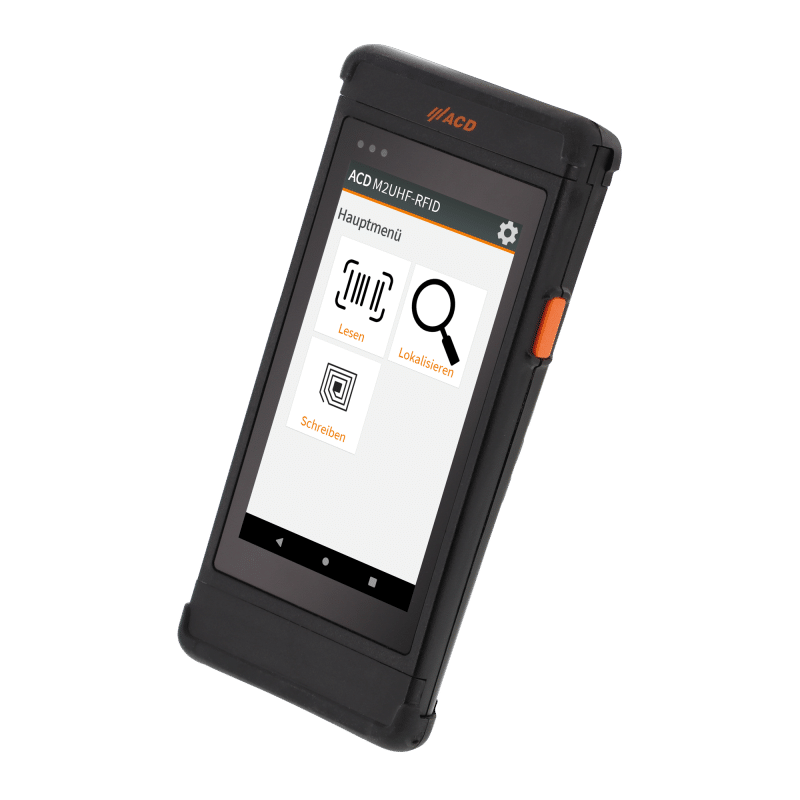 Mobile Handheld Computer M2Smart®SE HF-RFID
HF-RFID/NFC Reader
The M2Smart®SE mobile handheld computer with integrated HF RFID/NFC reader offers a robust and intelligent solution for mobile use with HF RFID.
Product Information
M2Smart®SE with HF-RFID
Flexible and modular for your RFID processes
Important Key Facts
Frequency range: 13.56 MHz
Approvals: CE, FCC, IC, CCC (non-European approvals from 2021)
Operating system Android™ Industrial+ where the main focus is on security aspects
Reliable plug and play feature for frequent module changes
Intuitive usability through common Android™ environment
Rugged housing design for rough everyday use
Combinable with all RFID and other modules such as keypads, handle, scanner (short-range/mid-range/long-range), etc.
In 2020, the M2Smart®SE mobile handheld computer received the iF Design Award, the German Innovation Award, and the Innovation Award of the State of Baden-Württemberg.

Technical Data
All Data at a glance
HF-RFID
Integrated HF RFID/NFC Reader PN7150 with integrated firmware
Frequency range: 13.56 MHz
CE, FCC, IC, CCC (non-European approvals from 2021)
Special feature: Can be combined with all RFID modules from ACD
Supported RFID Protocols
NFC IP Modes: Reader NFC forum tag type 1 to 5, P2P active initiator and target, P2P passive initiator and target, reader/writer mode, peer to peer mode, and card emulation
Reader (PCD-VCD): ISO/IEC 14443A/B, ISO/IEC15693, MIFARE Classic/DESFire, Sony FeliCa
CARD (PICC): T4T-ISO/IEC14443A, ISO/IEC14443B, NFC FORUM T3T
System
NXP® i.MX8M Mini, 4x Cortex A53 (4x 1,8 GHz) and 1x Cortex M4 (1x 400 MHz)
16 GB Flash, larger memory optionally available
2 GB RAM, larger memory optionally available
Display
4,8″ color TFT Display with LED backlight
1280 x 720 pixels, 280 cd/m²
3 Status LEDs
Capacitive, surface hardness according to MOHS category 5-6
Device
Housing: ABS/PC
Protection class: IP54/IP65
Device dimensions: 174 x 82 x 28 mm (L x W x H)
Weight: Ca. 390 g
Operating temperature: -20 °C bis 50 °C/-4 °F to 122 °F
Storage temperature: -20 °C bis 60 °C/-4 °F to 140 °
Power supply
Quick-change rechargeable battery, li-ion with 22.8 Wh (6,000 mAh/3.8 V)
Docking station incl. battery charger for spare battery
Barcode scanner
2D shortrange scanner SE4770 (integrated in housing, side scanner keys)
opportunity to scan DotCodes as option
Options
2D midrange scanner SE4750MR
WLAN according to IEEE 802.11 a/b/g/n/ac/d/h/e/i/r/w/v (2,4 GHz/5 GHz) incl. BT-compatible close-range network 5.0
WLAN Security: WLAN Security:WEP, WPA, IEEE802.11i (Personal and Enterprise), WPA2, WPA2-PSK, 802.11x: authentication
SOTI® certification
Product Equipment
Accessories
Similar Products
Products that might also interest you
ACD Gruppe
2021-04-29T10:17:24+02:00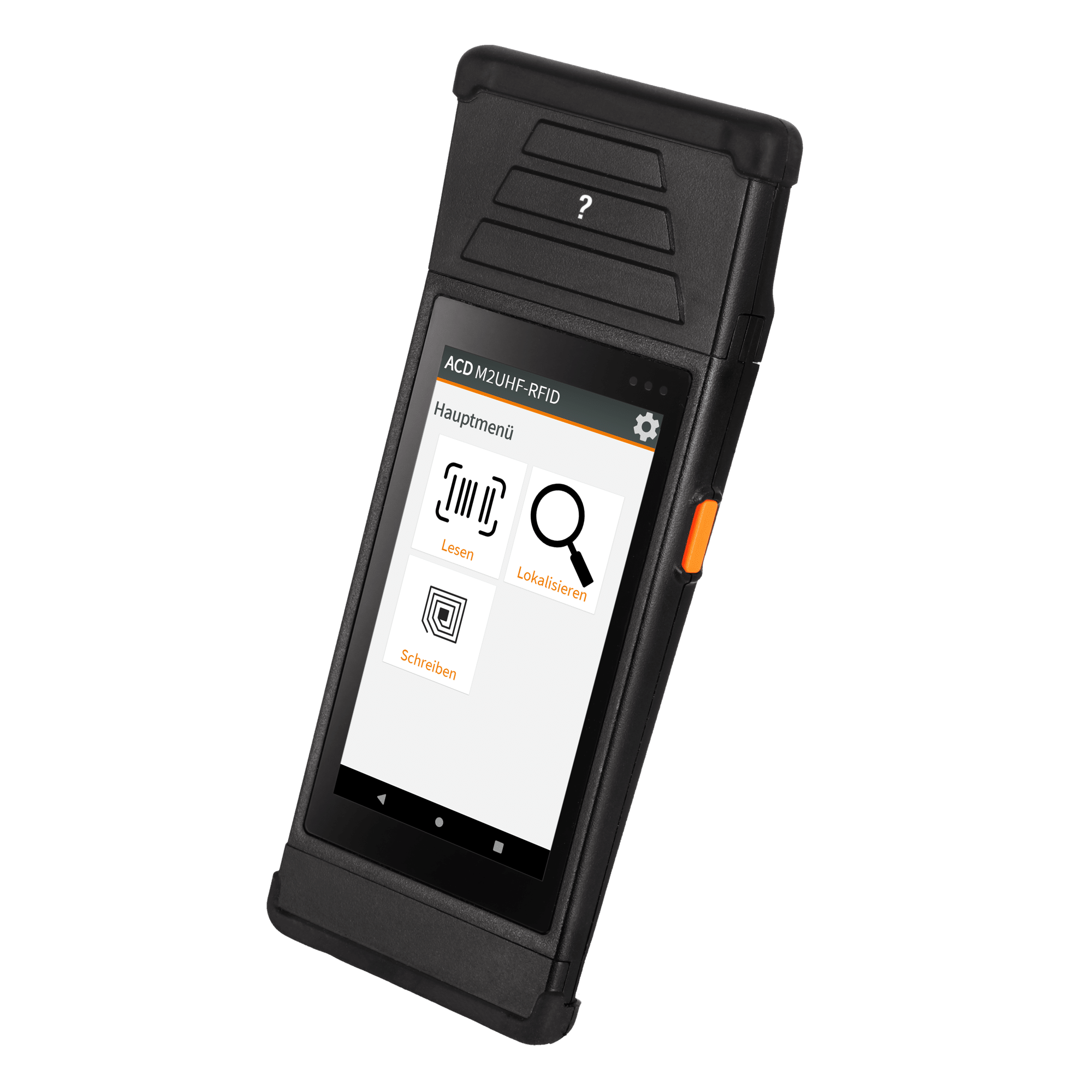 Different frequencies: LF-/HF-/UHF-RFID
Mobile Handheld Computer M2Smart®SE
Integrated HF-RFID/NFC Reader
In the age of Industry 4.0 and IoT, portable RFID readers are increasingly being used to flexibly perform individual read or write operations as required. As a specialist for mobile operating devices, ACD Elektronik GmbH takes this trend into account and presents a variant of the mobile handheld computer M2Smart®SE with integrated HF-RFID..
Security and long-term availability are the center of attention
Long-term availability and a clear focus on security aspects are to be particularly emphasized as characteristics of the Android™ embedded platform of ACD Elektronik. This means that customers can calculate with eight years of support for hardware and software and thus have a high investment security. All critical services and functions that could lead to unwanted data exchange with third parties have been eliminated without limiting the usual comfort of the Android™ system. All relevant updates and security patches can be accessed via ACD support. A further advantage of the mobile handheld computer is the robust housing construction with high impermeability and a long-lasting battery that can be changed during operation without having to restart the device. The patented modularity as well as the operating system Android™ Industrial+ make the M2Smart®SE with HF-RFID a slim, yet very robust and efficient solution for use in a wide range of scenarios where RFID is required.