Mobile Handheld Computer with RFID
M2Smart®SE with UHF-RFID
The M2UHF-RFID module transforms the M2Smart®SE mobile handheld computer into an industrial UHF-RFID handheld for short-range applications. With its linearly polarized antenna and an adjustable output power of up to 23 dBm, the compact module covers the typical application scenarios in industrial environments.
Product Information
M2Smart®SE with UHF-RFID
Flexible and modular for your RFID processes
Important key facts:
Frequency range EU: 865 to 868 MHz
Frequency range Worldwide: 902 to 928 MHz
Antenna type: Integrated Linear Polarized
Convenient DEMO app with numerous configuration options
Android™ Industrial+ operating system, where the main focus is on security aspects
Reliable plug and play function for frequent module changes
Robust housing design for rough everyday use
Can be combined with other modules such as keyboards, handle, scanner (shortrange/midrange/longrange), etc.
In 2020, the M2Smart®SE mobile handheld computer received the iF Design Award, the German Innovation Award, and the Innovation Award of the State of Baden-Württemberg.

Technical Data
All data at a glance
UHF-RFID
Frequency range EU: 865 to 868 MHz
Frequency Range Worldwide: 902 to 928 MHz
Antenna Type: Integrated Linear Polarized
Output Power: 0 dBm to +23 dBm
Approvals: CE, FCC (further non-European approvals from 2021)
Protection class M2UHF-RFID module: IP54
M2UHF-RFID App: ACD M2UHF-RFID App with various settings and the functions of reading, writing and locating UHF RFID tags
Longrange variant available from 2021
Supported RFID protocols
EPCglobal UHF Class 1 Gen 2
ISO 18000-63 (formerly 18000-6C)
DRM (Dense Reader Mode) support
Display
4.8″ TFT color display with LED backlight
1280 x 720 pixels, 280 cd/m²
3 status LEDs
Capacitive, surface hardness according to MOHS category 5-6
Device
Housing: ABS/PC
Protection class: IP54/IP65
Dimensions with module: 210 x 82 x 28 mm (L x W x H)
Weight with module: Approx. 450 g
Operating temperature: -20 °C bis 50 °C/-4 °F to 122 °F
Storage temperature: -20 °C bis 60 °C/-4 °F to 140 °
Power supply
Quick-change rechargeable battery, li-ion with 22.8 Wh (6,000 mAh/3.8 V)
Docking station incl. battery charger for spare battery
Options
WLAN according to IEEE 802.11 a/b/g/n/ac/d/h/e/i/r/w/v (2,4 GHz/5 GHz) incl. BT-compatible close-range network 5.0
WLAN Security: WLAN Security:WEP, WPA, IEEE802.11i (Personal and Enterprise), WPA2, WPA2-PSK, 802.11x: authentication
Various software products such as EasyToConfig
SOTI® certification
Product Equipment
Accessories
Similar Products
Products that might also interest you
ACD Gruppe
2021-02-11T16:17:53+01:00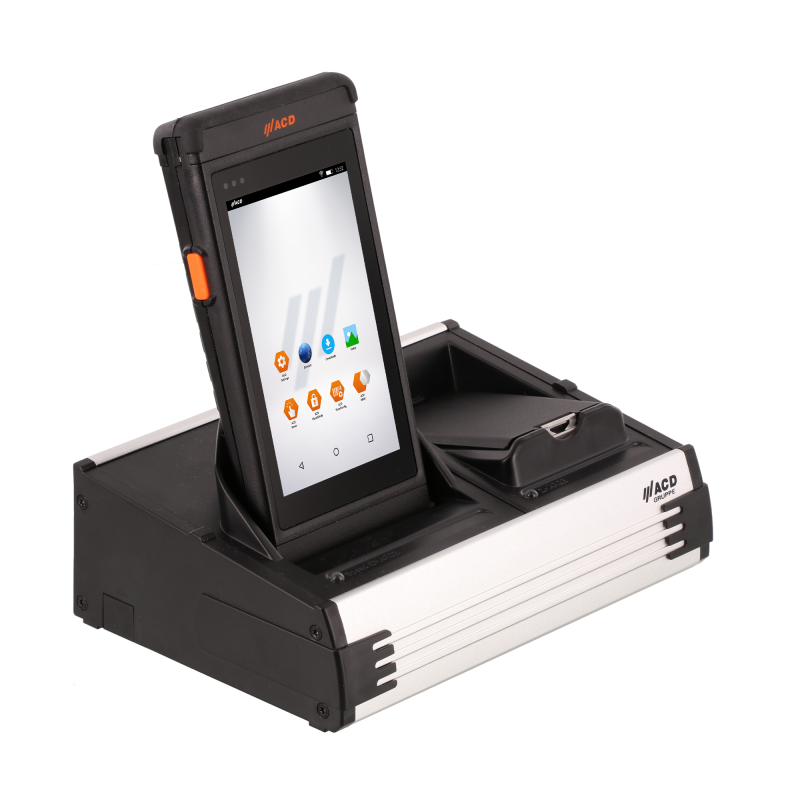 Flexible and modular for your processes
ACD Gruppe
2021-02-11T16:19:59+01:00
ACD Gruppe
2021-02-04T15:15:39+01:00
for functional safety with 10 inch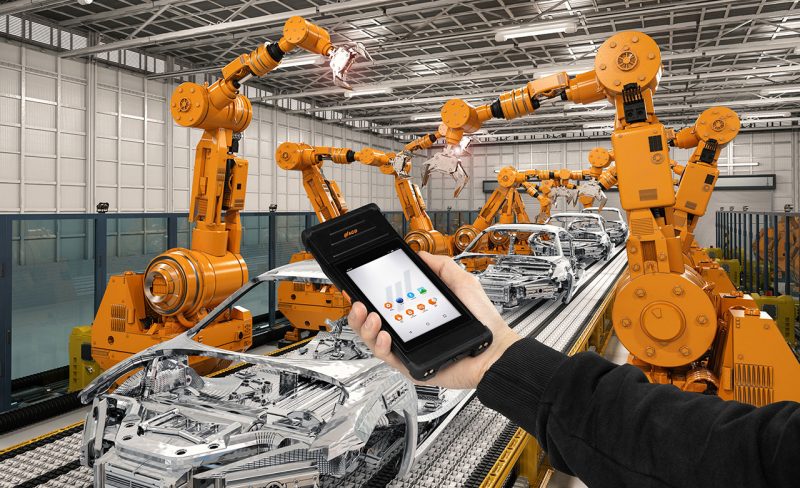 An important building block on the way to the Smart Factory!
M2Smart®SE with M2UHF RFID
In times of IoT and Industry 4.0, the importance of permanently and seamlessly monitoring material flows in the production process is growing. The Smart Factory requires high data transparency in all phases of the value-added process. Many of these requirements are met by stationary RFID systems. Portable RFID readers are also increasingly being used to flexibly perform individual read or write operations as required. As a specialist for portable devices, ACD Elektronik GmbH takes this trend into account and introduces a new, mobile UHF RFID reader based on the M2Smart®SE.
Matching M2UHF-RFID App
The included M2UHF-RFID App offers a wide range of options to customize the system to individual needs. Besides common read/write functions, a comfortable tag localization and other useful features, e.g. various country regions can be set.
https://www.acd-gruppe.de/en/mobile-devices/mobile-handheld-computer/mobile-terminal-configurator/