News Beitrag
Handheld M2Smart®SE Streamlines Work in Industry and Logistics
Different RFID Frequency Ranges Covered with One Device!
Industrial companies and their partners are increasingly using AutoID technologies. The challenge: different technologies are used between companies or subdivisions within individual companies. For this increasingly common use case, electronics specialist ACD offers a new solution. The industrial handheld M2Smart®SE reads different RFID frequencies through simple insertion of modules by users.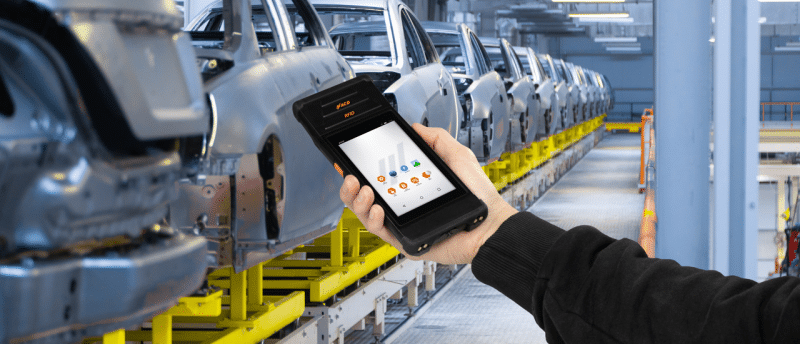 Industrial Handheld Reads HF, UHF, Barcode and QR Code
"The AutoID systems used in production and logistics processes vary greatly in some cases," explains Uwe Mahler, Head of Sales Industrial Solutions, ACD Elektronik. "HF RFID controls processes in production, for example, while logistics works with QR codes or UHF RFID."
This is where the M2Smart®SE comes into play. The device has an integrated HF RFID reader for reading and writing HF RFID tags. Attaching a UHF module enables the same with UHF RFID tags. In addition, the handheld is equipped with an optical scanner. This reads information from barcodes and QR codes.
Bridging Interfaces Between AutoID Systems
Working with several frequencies in one process step becomes possible. For example: the device reads an HF RFID tag. It converts the data so that a UHF RFID tag can be written in the next step. The same applies to the data captured by the optical scanner.
"The main advantage is that different system worlds do not have to be completely changed," emphasizes Uwe Mahler. "Thanks to its modularity, the M2Smart®SE covers interfaces between different areas of application. There is no need to purchase additional readers for individual technologies."