Modular device platform at Android™ Industrial+
Discover our product range
To develop your customized operator panel, choose between our M2Smart®SE with customizable modules or our embedded construction kit.
ACD Gruppe
2022-06-30T09:12:18+02:00
Develop your customer-specific operating device
ACD Gruppe
2022-09-22T13:49:19+02:00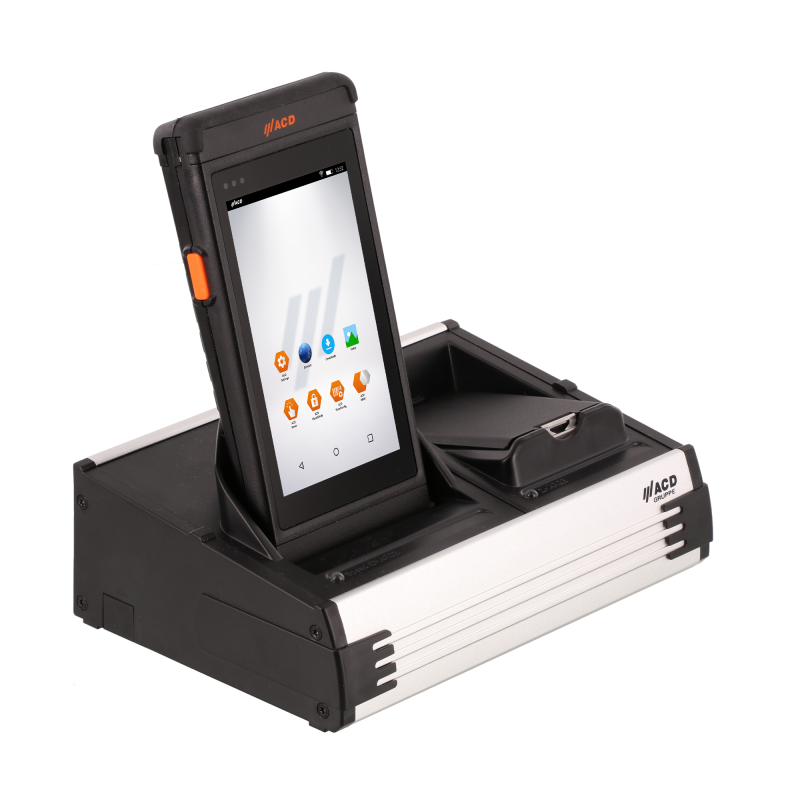 Flexible and modular for your processes
ANDROID™ INDUSTRIAL+ EMBEDDED KIT
Quickly to the customized embedded operator interface
Android™ Industrial+ modular device platform
Android™ is increasingly establishing itself as the operating system in the industrial sector. However, an "off-the-shelf" Android™ is rather designed for fast-moving consumer products such as smartphones. The operating system does not easily meet the high demands of professional users for data protection, system security, years of support and reliable operation.
In addition, many manufacturers are top-class specialists when it comes to the technical functionality of their products. However, developing a comfortable user interface that is precisely tailored to the respective device is usually not one of their core competencies. This process is often complex, lengthy and ties up a lot of resources – and is therefore not an option for many companies.
Modular handheld system "Made in Germany
This is where we come in and have developed a modular embedded platform that allows professional users to put together an operating unit tailored to their requirements. Standard components provide a stable basis, while the modular system ensures sensible adaptability. The operating system used is Android™ Industrial+ – a highly secure variant of the popular mobile OS optimized for professional use.
The basis of the industrial platform is the baseboard. CPU, radio and GPS modules can be plugged onto it. The CPU board is equipped with an i.MX8M mini processor from NXP, which is based on the energy-efficient ARM architecture. It combines four Cortex-A53 cores with up to 1.8 GHz and a Cortex-M4 core with DSP and 400 MHz clock frequency into a controller that combines highly efficient signal processing with power-saving control functions.
The right display size for every application
Whether stationary medical technology system or mobile handheld computer: The application determines the required display area of the user interface. For this reason, the embedded modular system offers a choice of touch screens with diagonals of 3.5 inches (8.9 cm), 4.8 inches (12.2 cm) and 10.1 inches (25.7 cm). The screens have resolutions of 640 x 480, 1280 x 720 and 1280 x 800 pixels, respectively.
The radio module certified according to the EU directive 2014/53/EU (Radio Equipment Directive, RED) ensures reliable wireless connectivity. It supports the IEEE 802.11 a/b/g/n/ac/d/h/e/i/r/w/v standards in the 2.4 GHz and 5 GHz frequency bands as well as Bluetooth 5.0. A GPS module with integrated antenna can determine the location if required. In addition, the embedded modular system provides further interfaces, sensors and components that can be used to further customize the operating solution.
Android™ Industrial+ for high data security
In industrial use, the focus is on system security, data integrity and long-term availability. That's why we decided to develop an industrial-grade variant of the popular Android™ mobile operating system. Android™ Industrial+ combines system security and lifetime support with the modern user interface familiar from Android™ smartphones. It operates independently of Google, with all source code residing with the manufacturer in Germany. This approach ensures that no data is transferred to third parties and that the software – just like the hardware of the embedded construction kit – is available for the long term. In addition, this also enables subsequent customer-specific adaptations. The manufacturer delivers security patches promptly via OTA (over the air) updates, so that the devices are always up to date.
Focused use with coordinated apps and tools
The last decisive component is the available apps and software tools. Matched to the hardware and operating system, they facilitate, for example, the initial setup and diagnosis of the system as well as the configuration of modular extensions.
The bottom line is that our modular embedded construction system offers industrial users the opportunity to quickly and with plannable effort realize an operating interface tailored to their requirements and designed for professional use.
They have the choice: They develop the operating unit themselves on the basis of coordinated hardware and software components of the embedded platform, if required with targeted support – also for design and approval – from the experienced ACD development team. Or ACD takes over the complete hardware and software development including manufacturing in close coordination.