Modular device platform at Android™ Industrial+
Discover our product range
To develop your customized operator panel, choose between our M2Smart®SE with customizable modules or our embedded construction kit.
ACD Gruppe
2020-11-25T16:28:46+01:00
Develop your customer-specific operating device
ACD Gruppe
2020-11-23T12:50:54+01:00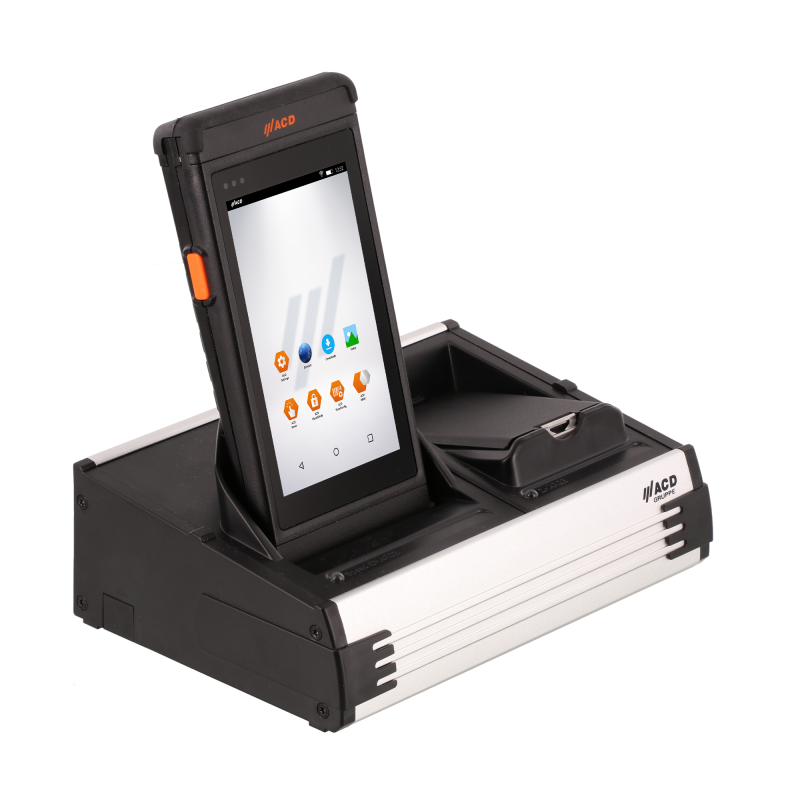 Flexible and modular for your processes
Modular Devices
Customized operating devices
The ACD assures the client that data security is guaranteed and that no data will be transferred to third parties. The Android™ Industrial+ is a secure Android™ that has been available for many years.
Modular device platform at Android™ Industrial+
Within the Modular Device Platform, customers have the choice of two design options when developing the customer-specific operating device. On the one hand, they can choose the modular M2Smart®SE mobile handheld computer with customer-specific adaptable modules, or they can opt for the embedded building kit, which still offers them freedom of design.
Mobile Handheld Computer M2Smart®SE Industrial
The M2Smart®SE Industrie is a modular device for industrial applications and received the iF Design Award in the category "Product, 1.09 Computer" as well as the German Innovation Award in 2020. The device is operated with the Android™ Industrial+ operating system and can be customized. It has a sliding mechanism for the exchange of different modules without tools. This sliding mechanism is patented. It is also available as a standard module.
To these specific modules belong for example: RFID reader, handles, distance sensors, payment modules, printer, 1D or 2D long range scanner and many more features. The design is compact and has a 4.8 inch display with capacitive touch screen. The integrated quick-change battery has been equipped with an extra long battery life. In addition, various software products such as ACD EasyToConfig can be used on the device. Furthermore, it has been made sure that the use of other Android™ apps can be executed simultaneously.
Fast and flexible through embedded systems
As part of a larger system, the embedded modular system offers the advantage that you can use the embedded building kit provided by ACD to develop a HMI device according to your requirements; without having to do without special features developed by ACD (such as Android™ Industrial+). Further advantages of the Android™ Systems system are that ACD focuses on security aspects, so you can expect several security patches. Roaming has been optimized to make better use of WLAN applications. The devices can be updated and, thanks to the extensive hardware and software customer service, are quickly up and running again in case of problems.
The device normally comes with the Android™ Industrial+ system. There are 3 display sizes to choose from, the GPS module has an integrated antenna, a short-range radio for WLAN and Bluetooth and a radio module with WLAN, Bluetooth including certification. However, all this can also be adapted completely individually according to your wishes.