Backhand scanner HasciSE
HasciSE: ergonomic backhand scanner with industrial quality
In the fast-growing segment of logistics wearables, our HasciSE handheld barcode scanner is the optimal solution for small parts picking, where most work is "hands-free". By attaching the HasciSE via robust snaps to any gloves, wrist straps, hand cuffs, zippers, etc., you are flexible in your choice of wearing options.
Product Information
HasciSE backhand scanner
The HasciSE backhand scanner features the following key data:
Logistics wearable: the lightest and smallest in its class
Pairing via BT-compatible short-range radio and ACD EasyToConnect 2.0
Various wearing options with rugged push buttons
Easy and fast scanning
Low error rates and safe handling
Long battery life (6,000 scans)
Scan triggering via finger switch, proximity sensor or scan button
Scan feedback: audible, haptic, and visual
Compatible with all Bluetooth-enabled devices with Bluetooth 4.0 and greater
Compatible ACD devices: M2Smart®SE mobile handheld computers, M270, MFT1x vehicle mount terminals, voice client with Android™ Industrial+
3 years warranty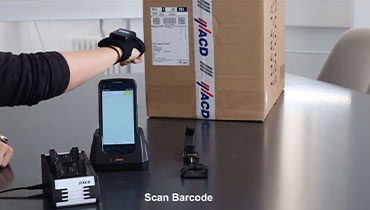 Technical Data
All data at a glance
Device
Housing: ABS
Protection class: IP54
Dimensions: 56 x 45 x 14 mm (L x W x H)
Weight: approx. 45 g
Operating temperature: -20 °C to 50 °C
Charging temperature: 10 °C to 40 °C
Storage temperature: -20 °C to 20 °C
Barcode scanner
2D scanner SE4770 (integrated into the housing)
optionally with the possibility of reading dot codes
Interfaces
BT-compatible short-range radio 4.0
Power supply
Rechargeable battery, lithium-polymer with 1.66 Wh (450 mAh/3.7 V)
Docking station
Special features
Scan triggering via configurable infrared proximity sensor, finger switch and button
Scan feedback via audio, vibration and visuals
Pairing via BT-compatible short-range radio (V4.0)
Easy to pair with ACD EasyToConnect 2.0 app
Compatibility with ACD devices
Mobile Handheld Computer M2Smart®SE
Mobile Handheld Computer M270
MFT1x series
Product equipment
Accessories
Similar products
Products that might also interest you
ACD Gruppe
2021-04-30T08:12:16+02:00
HasciSE
The best ergonomic barcode palm scanner in industrial quality
ACD Group's HasciSE backhand scanners are the next step in ergonomic, high-performance mobile logistics equipment. Our wearable scanning devices scan barcodes and offer faster order processing capabilities because of their easy mobility and usage. Much like wrist scanners, these devices offer more mobility and flexibility than traditional barcode scanners, which enhances overall productivity.
Backhand vs. Wrist Barcode Scanners
Ring, backhand, wrist, and finger barcode scanners are all designed with wearability and functionality in mind. These three designs often share similar functions, such as hands-free barcode scanning, Bluetooth connectivity, and scan triggering via button, finger switch and proximity sensor; however, backhand scanners offer distinct advantages.
The HasciSE backhand scanner can be easily mounted onto the back of the hand with the available hand cuff or strap. This makes the devices easy to wear and use with minimal error, discomfort, or risk of repetitive stress injuries. Scan triggering is accomplished via a durable button and a configurable infrared proximity sensor. Other advantages of the HasciSE backhand scanner model include:
A compact design. Our backhand scanners fit in a glove on the back of the wearer's hand without extending over their wrists or fingers to allow a full range of motion. This also allows wearers to naturally grip objects and use handheld tools. The robust snap fasteners ensure a secure connection to the glove.
Versatile attachment methods. In addition to the backhand glove attachment, users can attach the HasciSE scanner via strap to logistics equipment, or use a clip to attach to clothing.
A lightweight form. Every scanner is lightweight, which allows for easy wearing and minimal risk of muscle injury.
Easy setup and use. Our device controls and settings make setup, daily use, and reconfiguring easy for users. The HasciSE backhand scanner is compatible with Bluetooth 4.0 and higher devices, and it offers easy Bluetooth pairing via the ACD EasyToConnect 2.0 app.
The device can also integrate with other ACD logistics technology, including Mobile Handheld Computer, Vehicle Mount Terminals and the Voxter® Elite+ voice controlled picking system.
Applications for Backhand Scanners
Backhand scanners are ideal for any commercial or industrial application that requires users to take repetitive, fast scanning actions throughout the day. Some of the most popular applications for wearable scanners include:
Inventory management
Picking operations in warehouses and eCommerce fulfillment centers
Processing orders in receiving or shipping departments
Replenishment processes
HasciSE backhand scanners are built for use in a wide range of industries including warehouse management, manufacturing, fulfillment centers, industrial facilities, and more.
Backhand Scanners From ACD Group
Wearable devices are an essential technology for inventory and order fulfillment processes. While many handheld scanners also offer wireless communication, wearable designs such as wrist scanners offer better utility and productivity. Our HasciSE backhand scanners are even more advantageous because of their small, lightweight design, which allows for faster processing and a full range of motion for wearers.
If you're looking for wearable scanning devices that offer Bluetooth connectivity and better process management, contact us today to learn more about our devices' designs and capabilities.