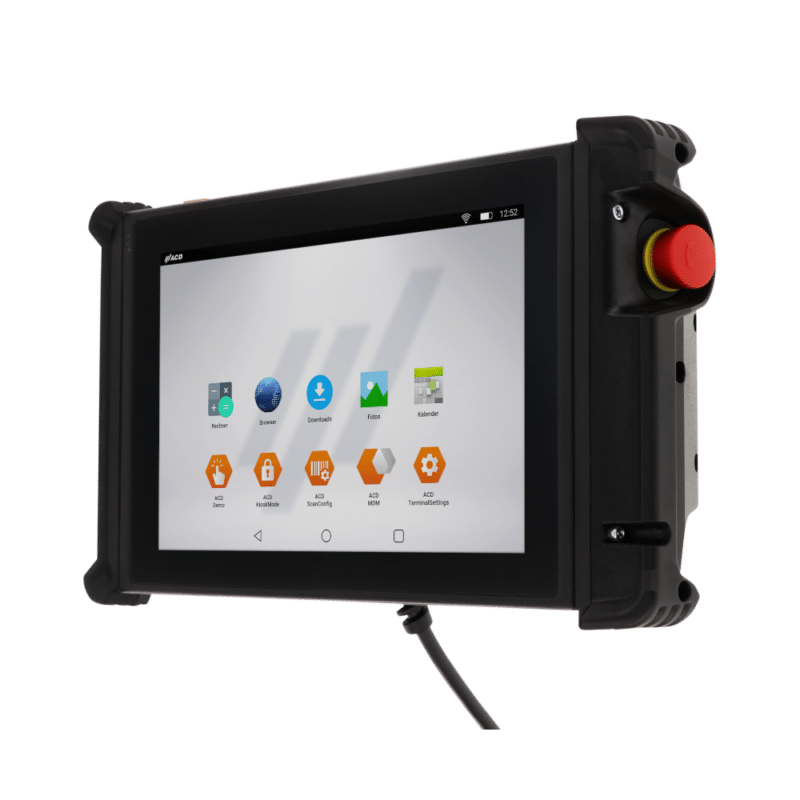 M2Smart® HMI10
M2Smart® HMI10 Wired
A high level of safety is required when operating industrial systems and machines. Emergency stop and enabling switches are indispensable functions in emergency situations. The wired M2Smart® HMI10 offers functional safety through these components. The M2Smart® HMI10 Wired is an optimal and robust solution for industry.
Product Information
M2Smart® HMI10 Wired
With the M2Smart® HMI10 Wired it is possible to meet the high requirements in terms of safety equipment of a machine. The obligatory emergency stop button, as well as a three-stage enabling switch, are mounted directly on the mobile HMI device and can be triggered immediately and easily. The 10.1 inch display has an optimal size and offers plenty space for information.
The secure Android™ Industrial+ operating system stands for high data security and easy handling. No data is passed on to third parties. Upgrading the wired M2Smart® HMI10 to the wireless high-end version of the HMI device is possible at any time.
Some key facts
Reliable operation even in safety-critical areas
Side-mounted emergency stop and handle incl. three-stage enabling switch on the rear of the device
Transmission of all non-safety data such as operating and visualization functions via WLAN
High security and intuitive operability through Android™ Industrial+ environment
Customized modules such as joysticks, hand wheels, etc.
Comfortable screen size due to 10.1 inch display
Capacitive touch screen for easy handling
Diverse ACD software apps such as EasyToConfig and simultaneous use of other Android™ apps
Technical Data
All data at a glance
System
NXP® i.MX8M Mini, 4x Cortex A53 (4x 1.8 GHz) and
1x Cortex M4 (1x 400 MHz)
16 GB Flash, optional 32 GB Flash
4 GB RAM
Device
Housing: ABS
Ingress Protection: IP65
Certification: CE
Dimensions without module: 197 x 313 x 58 mm (L x W x D)
Dimensions with module: 197 x 333 x 93 mm (L x W x D)
Weight without module: Approx. 1,500 g
Weight with module: Approx. 1,750 g
One side button, freely configurable
Operating temperature: -20 °C to 50 °C
Storage temperature: -20 °C to 60 °C
Directives: Machinery Directive 2006/42/EC / RED Directive 2014/53/EU / RoHs Directive 2011/65/EU
Options
Various modules, such as hand wheels, function keys, etc. are possible
Various ACD software products like e.g. EasyToConfig
SOTI® MobiControl
Control elements
Emergency stop button (M2Not-Halt10)
Handle incl. three-stage enabling switch (M2Zustimm10)
Other customer-specific modules possible
Independent change possible
Simple exchange of the additional modules, e.g. in case of servicing
Display
10.1″ IPS TFT color display with LED backlight (16:10)
1280 x 800 pixels (landscape)/800 x 1280 pixels (portrait)
3 status LEDs
Capacitive touchscreen
Display surface: Anti-glare, Hard-Coating (3H)
Interfaces
Visualization/operator data: WLAN according to IEEE 802.11 a/b/g/n/ac/d/h/e/i/r/w/v (2.4 GHz/5 GHz)
WLAN Security: WEP, WPA, IEEE802.11i (Personal and Enterprise), WPA2, WPA2-PSK, 802.11x: authentication
Safety data: Wired (emergency stop and enable function)
Connection Cable: 10-core connection cable, Length: 5 meters, optional 10 meters
SIMILAR PRODUCTS
Products that might also interest you
ACD Gruppe
2023-11-30T14:58:22+01:00
Wired case (hybrid solution) for the use of common tablets in the safety-critical area